Many friends move around the web for some sample design of an HTML website but never find relevant data. I have made a sample HTML website of beginner level for those friends. I will share its complete code with you so you can also implement it a home. But to make a web page in HTML, first of all, you must learn HTML. Html is a good practice for beginners in web development so every beginner must learn it.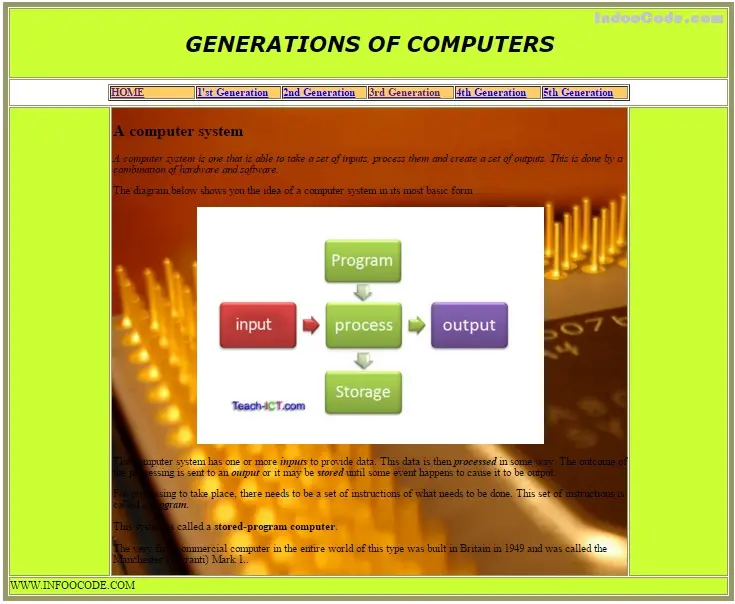 Also read: How to make a stunning Menu with HTML and CSS
HTML

 Website Design
The design that I have made is very simple because it is for beginners so they can easily understand it. In this design, we have a
Header
The header is always at top of your web page. It basically includes your web page Title. Other features can also be added according to your choice. The header which I have made is shown below. Best Java Decompilers
Menu

The menu i have made has five different links given in separate boxes. These are
Home
1st generation computers
2nd generation computers
3rd generation computers
4th generation computers
5th generation computers
Behind each link ,there is a separate page which has information about that category.
Side

 Bars

The side bars are simple and empty with some color. Learn Programming in an Efficient Way
Main

 Body in HTML Website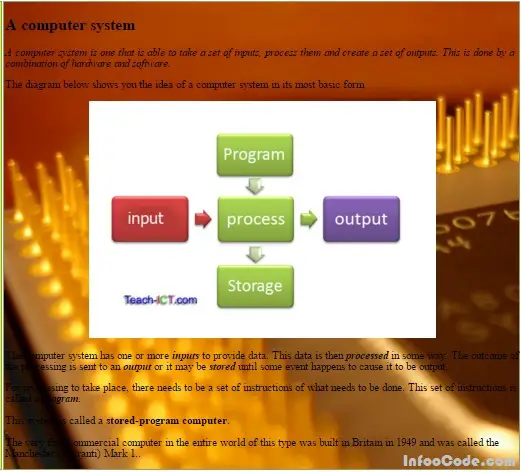 Main body is the place on each page where we have information about each category. This is the area which changes with categories while the other parts remain same while navigation.

Footer is always at the end of every website. My design include a simple in which i have written my blog name which is Infoocode.com . Below i have shared the HTML code for the home page i have made. Simple copy and paste the code to your text editor and practice it.
[php]
<!DOCTYPE html>
<head>
<style type="text/css">
.n {
font-family: Verdana, Geneva, sans-serif;
}
</style>
</head>

<body>
<table width="1099" height="650" border="8" bordercolor="#999966" >
<tr>
<td height="102" colspan="3" align="center" bgcolor="#CCFF33" ><h1 class="n"><strong><em>GENERATIONS OF COMPUTERS</em></strong></h1></td>
</tr>
<tr>
<td height="37" colspan="3" align="center"><table width="784" border="1">
<tr>
<td width="124" bgcolor="#FFCC66"><a href="home.html"><strong>HOME</strong></a></td>
<td width="124"bgcolor="#FFCC66"><a href="1page.html"><strong>1'st Generation</strong></a></td>
<td width="124"bgcolor="#FFCC66"><a href="2page.html"><strong>2nd Generation</strong></a></td>
<td width="124"bgcolor="#FFCC66"><a href="3page.html"><strong>3rd Generation</strong></a></td>
<td width="124"bgcolor="#FFCC66"><a href="4page.html"><strong>4th Generation</strong></a></td>
<td width="124"bgcolor="#FFCC66"><strong><a href="5page.html">5th Generation</a></strong></td>
</tr>
</table></td>
</tr>
<tr>
<td width="151" height="476" bgcolor="#CCFF33" > </td>
<td width="780" valign="top" background="Computers_Modern_computer_chip_094646_.jpg"><!-- InstanceBeginEditable name="EditRegionbody" -->
<h2>A computer system</h2>
<p><em>A computer system is one that is able to take a set of inputs, process them and create a set of outputs. This is done by a combination of hardware and software.</em></p>
<p>The diagram below shows you the idea of a computer system in its most basic form</p>
<p align="center"><img src="a-computer-system.jpg" width="520" height="355" alt="computer system" /></p>
<p>The computer system has one or more <strong><em>inputs</em></strong> to provide data. This data is then <strong><em>processed</em></strong> in some way. The outcome of the processing is sent to an <strong><em>output</em></strong> or it may be <strong><em>stored</em></strong> until some event happens to cause it to be output.</p>
<p>For processing to take place, there needs to be a set of instructions of what needs to be done. This set of instructions is called a <strong><em>program</em></strong>.</p>
<p>This system is called a <strong>stored-program computer</strong>.</p>
<p>The very first commercial computer in the entire world of this type was built in Britain in 1949 and was called the Manchester (Ferranti) Mark 1..</p>
<!-- InstanceEndEditable --></td>
<td width="146" bgcolor="#CCFF33"> </td>
</tr>
<tr>
<td height="23" colspan="3" bgcolor="#CCFF33">WWW.INFOOCODE.COM</td>
</tr>
</table>
</body>

[/php]
The above code was only for the home page. To download the whole project Click on download below. [button color="red" size="big" link="https://www.infoocode.com/wp-content/uploads/2016/02/HTML-WEBSITE.rar" icon="" target="true"]Download File[/button]
Hope so this Html website project will help you. If you have any queries ragarding this project freely ask in the comment box and share this useful stuff with your colleagues because sharing is caring 🙂