Z-Shadow is a website/app/tool that helps to hack different personal accounts like facebook, google etc. Z-Shadow basically works on phishing method but it reduces most of the work that you need to do while phishing. You can use z shadow both from your phone and laptop/desktop.
What is Z-Shadow?
Nowadays the most popular method used for hacking or you can say tricking a user to give their credentials(username, password) is phishing method.
Z-Shadow is one of the Phishing method used to trick the user to give their useful information.
The basic story behind it is that z shadow get a copy of login page of a particular website you want to hack and you send the page link to the person you want to hack and if the user got tricked and entered his username and password, you will get access to his account. The data comes to your z shadow account from there you can copy paste it and use it.

The data comes to your z shadow account from there you can copy paste it and use it.
One problem that can occur is nowadays most of the networks use two ways mobile verification for login Windows 7 usb installation. Means that if you are going to log in your account the network will send you a verification code to your mobile and you have to enter it back online to verify that it's the original user. This makes the phishing process more difficult. The person that is not using two-way verification can be hacked easily.
The person that is not using two-way verification can be hacked easily.
Note: These tutorials are just for educational purpose. Let me remind you that Hacking is an illegal and unethical activity.
In this article, I will guide you through the complete step by step method of hacking a Facebook or other social networks account through z shadow hacker.
As z shadow provide a number of methods through which a site can be hacked, I will try to cover the hacking methods of most demanding social networks with step by step guide.
List Of Z-Shadow Hacks
Let me first discuss the basic steps that are necessary to do before hacking any account. But wait let me first share the list of sites that can be hacked through z shadow trick scrapy.
Z-Shadow is increasing its capabilities day by day. They are adding new websites each day to be hacked and finding unique ways. Once they see a method I no more working they find a new way to work it out.
So, accounts which can be hacked are:
Facebook account
Google account
Gmail account
Yahoo account
Youtube account
Paltalk account
Netlog account
Gamezer account
Minecraft account
Tuenti account
Zynga account
Jawaker account
IMVU account
Darkorbit account
League of legends account
Krosmaster account
Dofus account
Dofus forum account
Instagram account
Hotmail account
Twitter account
Ask account
Steam account
Origin account
Goultarminator account
Metinv2 account
Z8games account
Habbo account
Xat account
Conquer account
Skype account
Paypal account(It's Premium)
Rappelz account
Battle.net account
Line account
Basic Steps Z Shadow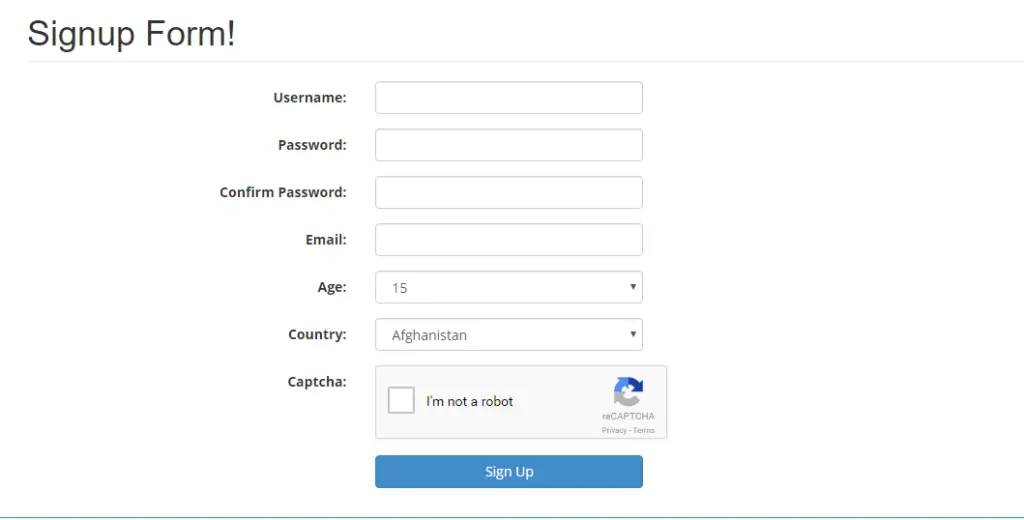 Follow the below steps before you head up towards hacking your first ID:
Open your internet browser(Google Chrom, Firefox) and type z-shadow.co in the search bar and press enter key.
When the website is opened, make sure your adblocker is disabled for z shadow.co.
Click on the Sign Up option in the main menu or click on the signup text written in big font in the center of the page.
Now fill out the form needed for your registration. You need to fill some typical things asked in each registration form(username, password, country etc).
As you completed filling the form it will redirect you to the website homepage, here the real game begins.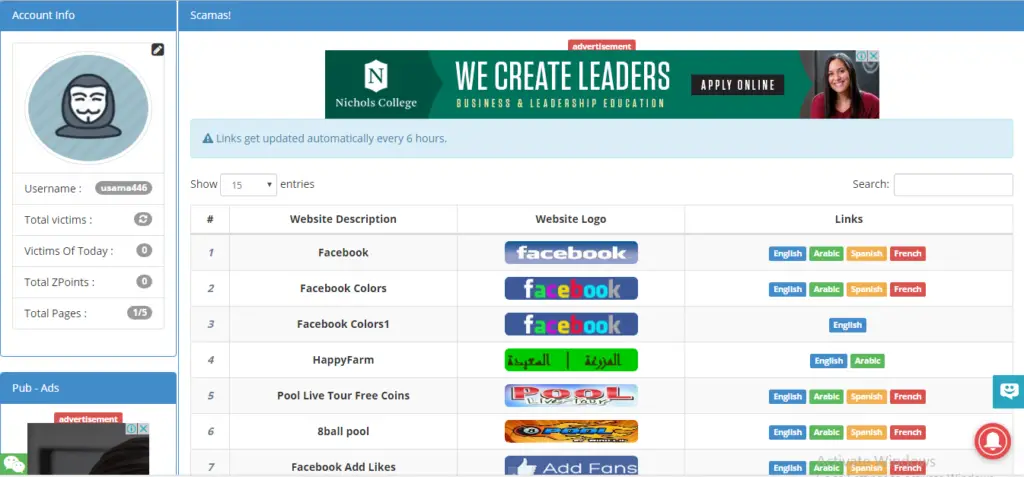 Follow the below methods to hack your desired site through z shadow 사운드 폰트.
Hack Facebook Using Z-Shadow
To hack a facebook account of your friend using z shadow you need to use a little bit brain of yours. As facebook hack is the most demanding one so, Z Shadow provides a number of ways that you can use to trick your friend. These ways are:
Standard Facebook Phishing page
Color Facebook phishing page
Happy Farm Phishing page
Pool live tour free coins
8 ball pool phishing page
Facebook add likes
Facebook add followers
Facebook add friends
Facebook beinsports
Facebook Home
War of Mercenaries
Saif Almarifa
Dragon city game
Criminal Case Game
Candy crush
Facebook Security
Above all are the phishing pages that you can use to trick your friends. Here you need to think a little bit, find out about your friend what he loves the most in the above list.
For example my friend crazy for having a lot of followers on Facebook so, I will click on the desired language, copy the link and send it to him through the inbox.
If he got tricked and entered the information then that data will be stored in My Victims. From there you can pick up the data your friend had entered.
Hack Gmail Using Z-Shadow
There is only one Phishing page to hack Gmail account through z shadow. Go to the second page of the listed websites, there you will see Gmail option at #19 26 volumes of Apocalypse. Select your desired language and copy the link, after that you know what to do 😉
Hack Twitter Using Z-Shadow
To hack twitter account using z shadow go to page #3 there at #36 you will find the option for twitter phishing page. Select the desired language and send it to your friend.
See the below video for complete understanding!
---
You can use the above method for all the websites that can be hacked through z shadow. Furthermore, I would like to mention a drawback of z shadow which is it show a lot of advertisements that frustrate a user.
Below I will explain about some options that are present in your account and what's the meaning of that.
Z-Shadow Account Options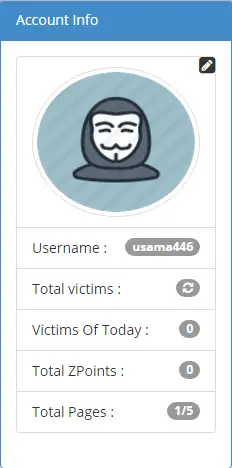 There is four basic option that a user needs to know about. These are:-
Total Victims
As the name shows it tells the total number of people being tricked by you from the beginning.
Total Victims of Today
It shows the total number of victims that got stuck in your trap on the present day batch of webpage images.
Total ZPoints
ZPoints are some sort of points/coins which you can use to buy premium stuff. As I mentioned earlier that PayPal phishing is the premium so you will need to buy the phishing page for 5 ZPoints and you can buy 10 ZPoints for $10.
Total Pages
Total pages are those pages in z shadow that you have created by yourself. You can make a phishing page of any site you want but it may not work for some site. And another limitation is that you can only make five custom pages.
Below is the method to make a custom page.
Create a Custom Page in Z-Shadow
Follow the steps to create a custom phishing page:-
Click on the "Make Custom Page" option in the main menu.
Select "Create Your Own Page" from the drop-down menu.
Enter the URL of the website.
Enter the User Agent i.e. Desktop if you want to use the page on desktop.
Fill down the captcha.
Click on "Make" or press enter.
See the video for an easy understanding 원펀맨 2기 3화 자막.
How to Save from Z-Shadow Attack?
As this article was for information purpose so, it's beside of telling you how a person is attacked through z shadow we should tell you how one can protect himself from z shadow attack. To understand it you must have a knowledge of the things I have shared above.
Methods you should consider to stay safe from z shadow attack:
Setup a two-way verification for your social account(Facebook, Twitter, Gmail, Youtube etc). For two way verification, you have to find the option of mobile verification in the setting of your social account. Then you have to activate this option and enter your mobile number. This will help you in a sense that if someone got your username and password and enter it. The site will send a verification code to your mobile number and the site will not authorize the user until he enters the verification code Download due to an error.
The second method is a little bit technical. This basically a link identification method in which you have to identify the link sent to you by someone. You have to identify whether the link is valid or some sort of spam to trick you to get your credentials. The link you got, see the domain name in the link like www.facebook.com is a domain name. Mostly you will not find a valid domain in a phishing page. The more alphanumeric characters are found in a URL the more chance of it to be spammy.
Z-Shadow Application for Mobile
If you want to use z shadow on your mobile phone then there is a good news for you. Z shadow mobile app is also available so you can use it to access your account.
As it is used for hacking purposes so it's not available on play store. To download click on the button.
Some Incoming Queries
Click on the plus sign to read it 500px 사진 다운로드.
Wrapping it Up: So, guys it was all about z shadow hacking tricks hope you would have enjoyed it. Have fun and must share it with your friend by using social buttons. If you are facing any problems you can ask in the comment box.
Frequently asked questions
Q1: How do I sign into Facebook with Google 손오순 타자?
Ans:  Just go to your Facebook account settings, select Gmail in the Linked Accounts section, and that's it. Log in to your Gmail account then go to http://facebook.com. Notice that you will be directed to your Facebook profile without being asked to login first.
Q2: How can I recover my Facebook account?
Ans: Here is the method.
Go to your Security and login.
Scroll down to Recover External Accounts and click Edit.
Click on the key for the account you want to recover access to.
Click Recover Account. After completing security checks, you'll be taken back to the other website.