Z-Shadow is a website/app/tool that helps to hack different personal accounts like facebook, google etc. Z-Shadow basically works on phishing method but it reduces most of the work that you need to do while phishing. You can use z shadow both from your phone and laptop/desktop.
Note: These tutorials are just for educational purpose. Let me remind you that Hacking is an illegal and unethical activity.
In this article, I will guide you through the complete step by step method of hacking a Facebook or other social networks account through z shadow hacker.
As z shadow provide a number of methods through which a site can be hacked, I will try to cover the hacking methods of most demanding social networks with step by step guide.
Let me first discuss the basic steps that are necessary to do before hacking any account. But wait let me first share the list of sites that can be hacked through z shadow trick.
So, accounts which can be hacked are:
Facebook account
Google account
Gmail account
Yahoo account
Youtube account
Paltalk account
Netlog account
Gamezer account
Minecraft account
Tuenti account
Zynga account
Jawaker account
IMVU account
Darkorbit account
League of legends account
Krosmaster account
Dofus account
Dofus forum account
Instagram account
Hotmail account
Twitter account
Ask account
Steam account
Origin account
Goultarminator account
Metinv2 account
Z8games account
Habbo account
Xat account
Conquer account
Skype account
Paypal account(It's Premium)
Rappelz account
Battle.net account
Line account
Basic Steps Z Shadow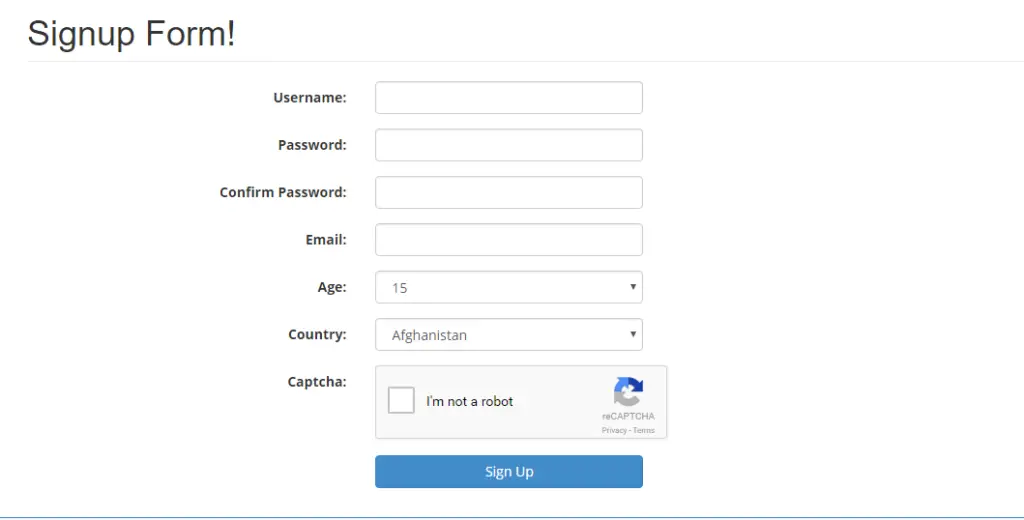 Follow the below steps before you head up towards hacking your first ID:
Open your internet browser(Google Chrom, Firefox) and type z-shadow.co in the search bar and press enter key.
When the website is opened, make sure your adblocker is disabled for z shadow.co.
Click on the Sign Up option in the main menu or click on the signup text written in big font in the center of the page.
Now fill out the form needed for your registration. You need to fill some typical things asked in each registration form(username, password, country etc).
As you completed filling the form it will redirect you to the website homepage, here the real game begins.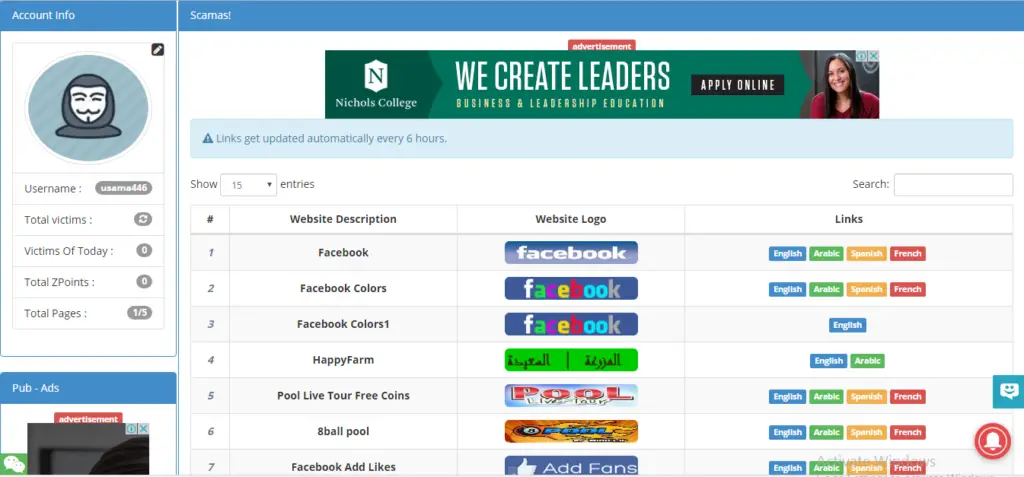 Follow the below methods to hack your desired site through z shadow.
Hack Facebook Using Z-Shadow
To hack a facebook account of your friend using z shadow you need to use a little bit brain of yours. As facebook hack is the most demanding one so, Z Shadow provides a number of ways that you can use to trick your friend. These ways are:
Standard facebook Phishing page
Color facebook phishing page
Happy Farm Phishing page
Pool live tour free coins
8 ball pool phishing page
Facebook add likes
Facebook add followers
Facebook add friends
Facebook beinsports
Facebook Home
War of Mercenaries
Saif Almarifa
Dragon city game
Criminal Case Game
Candy crush
Facebook Security
Above all are the phishing pages that you can use to trick your friends. Here you need to think a little bit, find out about your friend what he loves the most in the above list. For example my friend crazy for having a lot of followers on facebook so, I will click on the desired language, copy the link and send it to him through the inbox.
If he got tricked and entered the information then that data will be stored in My Victims. From there you can pick up the data your friend had entered.
Hack Gmail Using Z-Shadow
There is only one Phishing page to hack Gmail account through z shadow. Go to the second page of the listed websites, there you will see Gmail option at #19. Select your desired language and copy the link, after that you know what to do 😉
Hack Twitter Using Z-Shadow
To hack twitter account using z shadow go to page #3 there at #36 you will find the option for twitter phishing page. Select the desired language and send it to your friend.
See the below video for complete understanding!
---
You can use the above method for all the websites that can be hacked through z shadow. Furthermore, I would like to mention a drawback of z shadow which is it show a lot of advertisements that frustrate a user.
Below I will explain about some options that are present in your account and what's the meaning of that.
Z-Shadow Account Options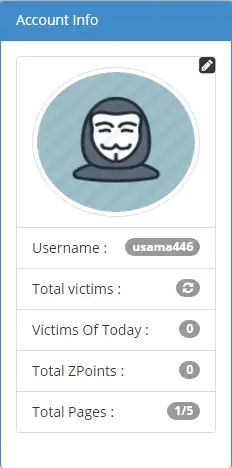 There is four basic option that a user needs to know about. These are:-
Total Victims
As the name shows it tells the total number of people being tricked by you from beginning.
Total Victims of Today
It shows the total number of victims that got stuck in your trap on the present day.
Total ZPoints
ZPoints are some sort of points/coins which you can use to buy premium stuff. As I mentioned earlier that paypal phishing is the premium so you will need to buy the phishing page for 5 ZPoints and you can buy 10 ZPoints for $10.
Total Pages
Total pages are those pages in z shadow that you have created by yourself. You can make a phishing page of any site you want but it may not work for some site. And another limitation is that you can only make five custom pages.
Below is the method to make a custom page.
Create a Custom Page in Z-Shadow
Follow the steps to create a custom phishing page:-
Click on the "Make Custom Page" option in the main menu.
Select "Create Your Own Page" from the drop-down menu.
Enter the URL of the website.
Enter the User Agent i.e. Desktop if you want to use the page on desktop.
Fill down the captcha.
Click on "Make" or press enter.
See the video for an easy understanding.
Z-Shadow Application for Mobile
If you want to use z shadow on your mobile phone then there is a good news for you. Z shadow mobile app is also available so you can use it to access your account.
As it is used for hacking purposes so it's not available on play store. To download click below button.
Wrapping it Up: So, guys it was all about z shadow hacking tricks hope you would have enjoyed it. Have fun and must share it with your friend by using social buttons. If you are facing any problems you can ask in the comment box.
Get More Secret Guides & Offers
                       Subscribe now and start getting premium tricks and guides related.