If you are a blogger or run a website you may have heard about SEO. If your never heard Go Through it. Today I will tell you about best ever SEO plugin for wordpress. WordPress is coded in such a way that it covers all aspects of seo and that's why it is also called seo friendly platform for blogging and website building.  But it still need something strong in assistance to make a much stronger SEO. The Plugin about which I'm going to tell you is Yoast SEO Plugin. It's the only plugin which include all the features that are required to do a smart SEO. I also use Yoast SEO plugin at InfooCode and never needed another plugin for my on page SEO.
Also Learn:
In this article I'll explain all the features of Yoast SEO Plugin and will teach you how to install and use it Download the Excel 2010 trial. So, starting with some cool features of Yoast SEO plugin.
Cool Features Of Free Yoast SEO Plugin !
It combine all the features of other SEO plugins like All in one SEO pack, Google XML sitemap, WordPress SEO plugin and many more. I'll will discussing free plugin features with you . I'll discuss it features one by one in complete detail. So starting with the first one…
Snippet Editor
Yoast SEO plugin uses a snippet editor which is amazing and easy to use. Snippet Editor allow you to edit meta title, meta description and the permalink on the spot, just click on it and edit according to the need.  The biggest advantage of the snippet editor is that it show you how exactly your post will be shown in Google search. Snippet Editor shows your keywords in bold as shown in Google search. You can see it below.

Also learn:-
Focus Keyword
Below the snippet editor it allows you to enter your keyword so Yoast SEO Plugin can analyze the article according to your keyword. Using your keyword it find out that whether the keyword density in 1% or not, keyword appears in title or not and many other things. See screenshot below.

Content Analysis
The content analysis shows you a list of errors that occur in the article and needed to be corrected Daemontool. It is the most useful feature of Yoast SEO Plugin. It defines each error in a statement and points the intensity of errors with different colors like red, green and yellow. See it below (Click the picture for larger image).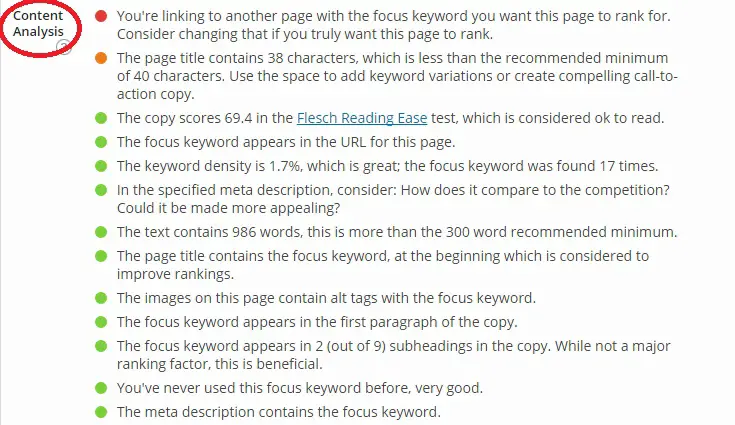 Robots Meta Configuration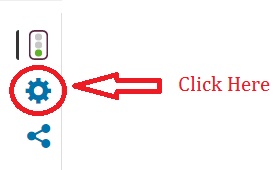 When you click on the advance setting under the content analysis button you will find Meta robots settings. Here you can hide a single page not to be indexed or you can hide a complete section of your site. You can also set the search engine robots to no index a certain page or to index a certain page. Also select Follow or No Follow type of link for search engine robots. Add a canonical url if needed or leave it empty to point to default permalink.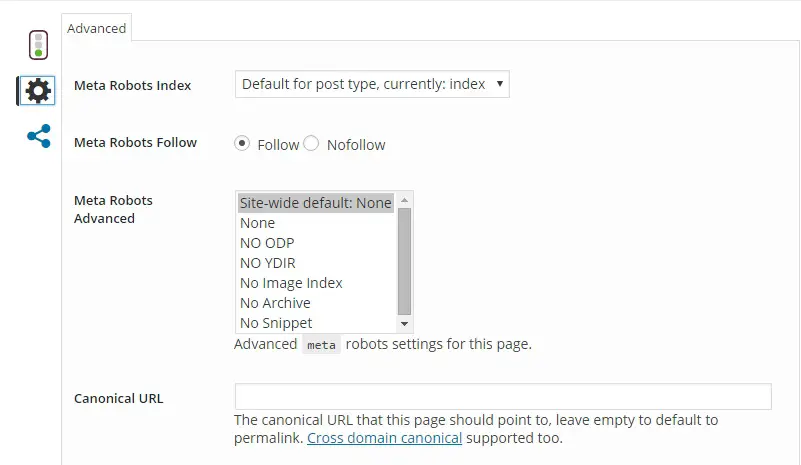 Social Sharing
Yoast SEO plugin give you another option for sharing your data on social networks. If you want to change the post name or featured image of post you can change it in Yoast seo plugin and then share it. By clicking the sharing button below the robots Meta configuration you will find this amazing option. It will provide you options for both facebook and twitter. The below three things can be changed:-
Title of the post
Description of the post
Image of the post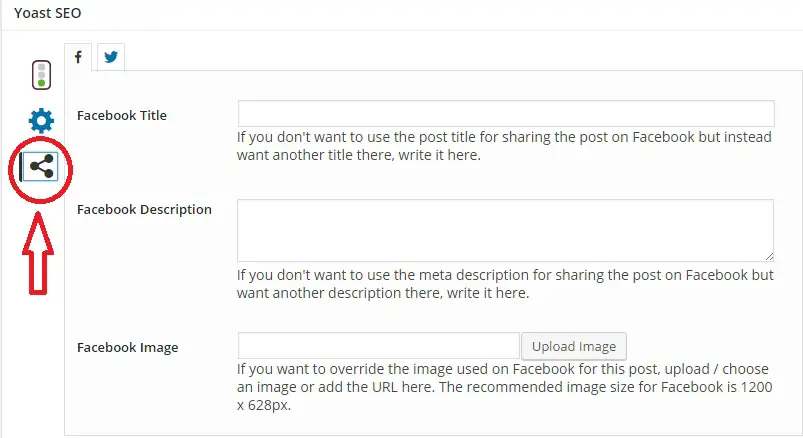 The options which I've explained above are those options which are available for on page optimization of your article acrobat pro 11. The features that are available for off page optimization are discussed below.
Breadcrumbs
Now Yoast SEO Plugin gives you a full control over breadcrumbs. You can determine which taxonomy for a particular post will be shown and you get to determine for page, post and taxonomy, which title to be used for that specific entity in the bread crumb paths it appear in.
Permalink Clean up
If you hate links with wired variables at the end of the URL you have a solution now! Permalink clean up in now one click away. Just check one dialog box and your problem is solved.
XML Sitemap
Now just sit back and write your stuff! You don't have to take tension about updating you sitemap each time you write another post. Yoast SEO plugin allow you to create your xml sitemap and submit it to Google webmaster Tools. Another advantage is that Yoast SEO plugin add an XSLT style sheet to sitemap so it is easily understandable by humans.
Edit robots.txt And .htaccess File Easily
Editing your robots.txt and .htaccess file was not that much easy, now you can edit these files from File editor of Yoast SEO Plugin Download superstar deduction. So, just update or check these files with one click.
Clean Up Head Section
Now you don't have to take tension about the bloat in the <head> section of you wordpress install, we have or Yoast SEO plugin which will take care of it.
Import & Export Functionality
If you manage more than one site or blogs and you are fed up making plugin settings for each blog independently then take help from Yoast plugin. You just need to setup the plugin once and then import its settings to all of your blogs.
So guys I've told you about the features of yoast SEO plugin but keep in mind that these are the functionalities included in the free version. You can also go for premium one if needed and double up the services. Now proceeding with the installation and setup of Yoast SEO plugin with step by step tutorials.
How to install YOAST SEO Plugin?
To install this plugin goto WordPress Dashboard=>Plugins=>Add New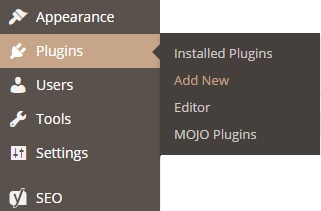 Type Yoast SEO in the the search dialogue box. The plugin will appear and click on the install button as shown below in screenshot.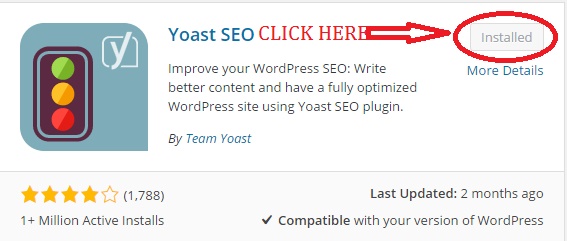 Once its installed, moving toward the settings of the plugin which is the most important part and you should do it very carefully 실버라이트 스트리밍. If your settings are wrong than it can produce big problems for you.
How to Setup WordPress SEO Plugin By Yoast?
While setting up your plugin you should be very carefull because wrong settings can mess up your site statistics. Starting with the setup Go to:
Dashboard=>SEO=>General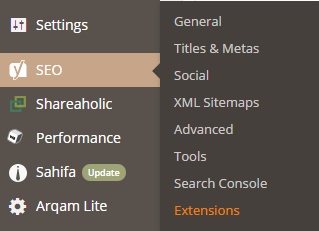 You will find out the SEO option in the menu at the left side of your dashboard, further in SEO select General settings.
General Settings
In general settings you have five more options which are:-
General
Your Info
Webmaster Tools
Security
onpage.org

The most important are your Info and webmaster Tools. Just put some general information about your site in Your Info box and then move towards Webmaster Tools. For webmaster tools, first you have to submit your site to Alexa, Google, Bing and Yandex to give the codes that are generated by them. It is most important step because it will help search engines to index and rank your site quickly. Leave the other option as it is.
Titles & Metas
Go to Dashboard=>SEO=>Titles & Metas. There are further five more categories, will be discussing one by one.
General:

Below in the screenshot you can see you have different symbols to select 비스타 서비스팩2 다운로드. They are used to separate your site and post title, must see the help section first while selecting one of them.
Homepage:
Click on the Homepage button to set title and description of your site. See the screenshot below.

Title template: Select a meta title to be shown in search engines.
Meta Description Template: Write a meta description for your site that will be shown in search engines.
Post Types
Here you can do SEO settings for Posts and Pages. By default you will be having post, pages and videos. For better SEO leave the boxes empty as shown in screenshot. You can also show the post date to search engines, to show it just check the date box. To show your cintent ever green to search engines you should leave it empty.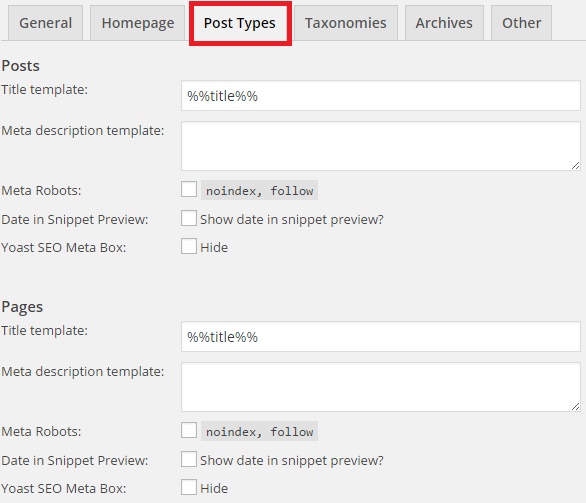 Taxonomies
It is better to have tags and categories no index and follow. You can change it according to your needs.
In this step simply check the three boxes as shown in screenshot. Also check these boxes for format dmb 다운로드.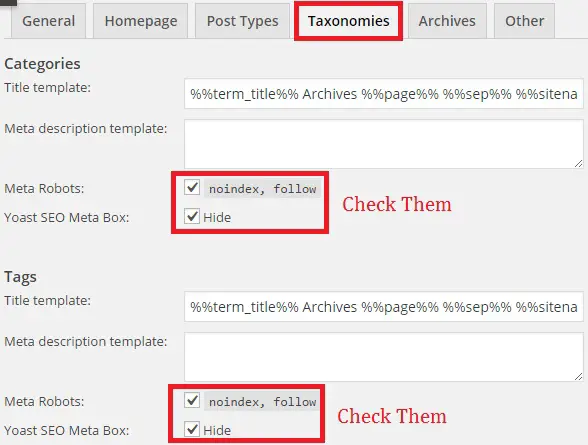 Archives And Other
If you want to set indexing for author and date-based archives, your can do it here. I have checked the two boxes in duplicate content prevention. See below.

For others just check the one box shown below: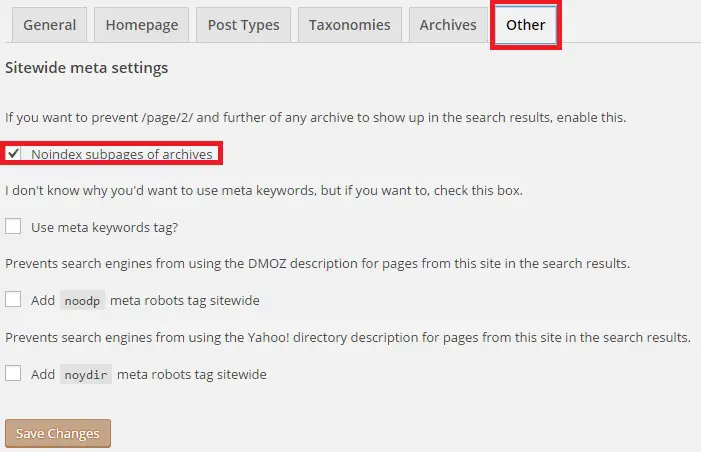 Social
In social setting you can add urls of your different social profiles. It help search engines to understand the relation of a owner with a site. Go and add your profile as shown below: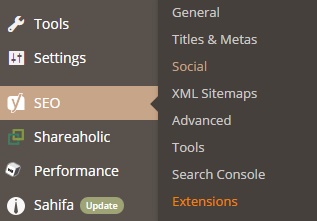 Go to SEO=>Social
Do similar as shown below: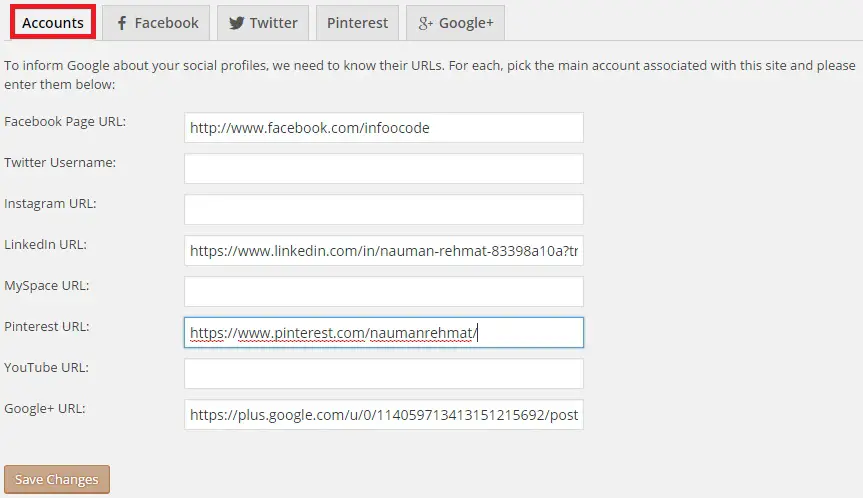 You can also upload a sample image for different social networks, they will be shown when your post have no images.
XML Sitemaps
While using Yoast SEO Plugin you don't have to use other plugins for sitemaps of your site. To enable site map feature of Yoast SEO plugin you will have to check one box as shown below. After enabling this feature you don't have to take tension about sitemap of your site. Generate the site map and submit it with Google, Bing and other webmaster tools which accept sitemap of a site.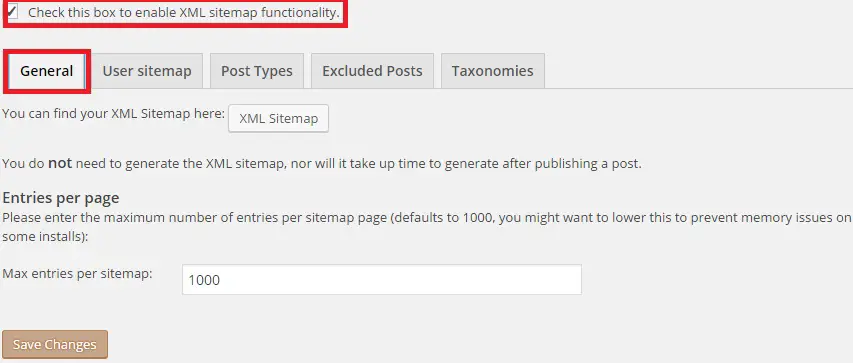 Advance
In advance section you have three categories:
Breadcrumbs
Permalinks
RSS
Breadcrumbs help search engines to understand your website structure Download Mother Deresa's letter. Example of breadcrumbs shown.

Just check the box below to enable breadcrumbs for your site. To learn more about breadcrumbs visit the link in the screenshot.

Permalink is also another important option to be set. My permalink settings are shown below: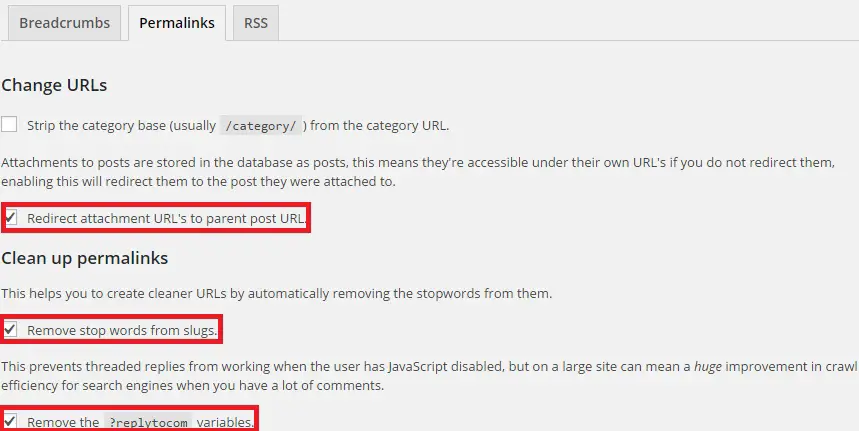 After permalinks another option under Advance is RSS. You can read the benefit of this feature in the description of this option as shown below.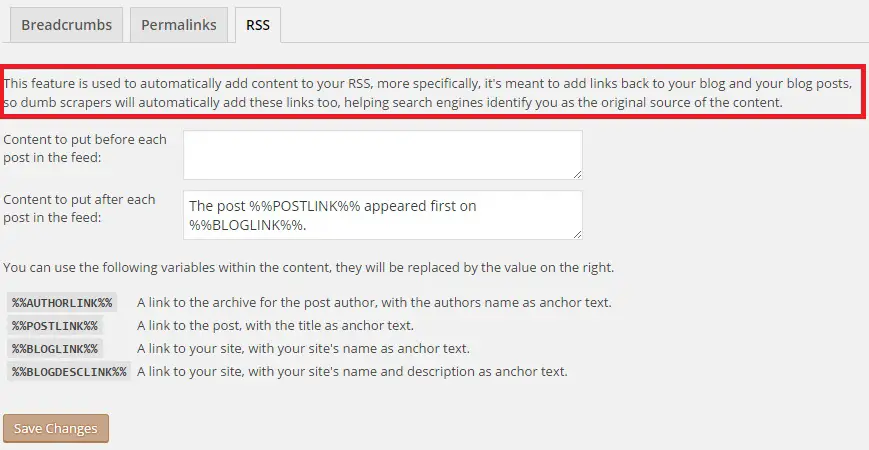 Tools
In Yoast SEO Plugin you can use the following tools:
Bulk Editor: This tool help you to change title and description of your posts without going to the editor of each post.
File Editor: Here you can change two files, which are robots.txt and .htaccess without going to webmaster tools or some other source.
Import and Export: You can use this tools to import or export your Yoast SEO Plugin settings to another blog.
Recalculate SEO Scores: Here you can calculate SEO score of your written data asp webshell.

Search Console
As I've explained above in General Settings of Yoast SEO Plugin how to synchronize your webmaster tools with Yoast SEO Plugin, here is the place where you can see your webmaster tools settings. It show your the errors that occurred while crawling your site.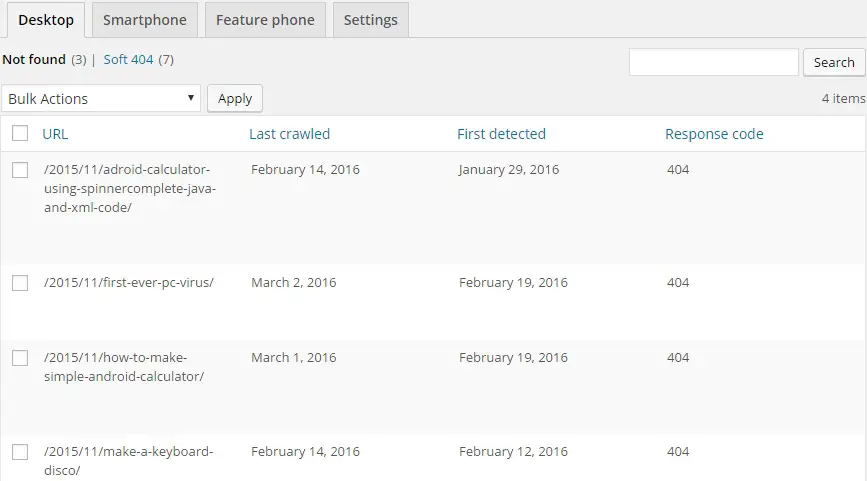 This handy feature of Yoast SEO plugin help you to view webmaster stats without going to webmaster tools.
Last Words:
Friends I hope my hard work will help you managing your Yoast SEO Plugin. As far as I've used Yoast SEO Plugin I'm tension free from my on page SEO of my blog. If you are using something old, leave it and move towards Yoast SEO plugin.
Guys if this article was helpful to you please share it with your friends, It means a lot 🙂
If still you have any queries about Yoast SEO Plugin feel free to ask in comment box. Also let us know if you have any feature in your mind that we missed about Yoast SEO Plugin, feel free to discuss in the comment box.
ENJOY 🙂
Frequently Asked questions
Q1: Is Yoast SEO plugin free?
Ans: It's easily the most comprehensive SEO-related Wordpress plugin you could ask for and best of all, it's free! You do have the option to buy premium Yoast SEO extensions for some extra functionality, but its most important functions are part of the free plugin One download of heirs.
Q2: How much is Yoast SEO Plugin?
Ans: The SEO premium version costs $69 for one site and offers the above additional features. Some of these features you can definitely get by with using free plugins, however, for those who are blogging to earn money or using WordPress for their full-time business, Yoast SEO Premium is definitely worth it.